Personal Web Sharing and permissions
The Web Sharing control panel on Mac OS 8/9 gives you two options for setting web client permissions:
Give everyone read-only access. Anyone can connect to your Mac, browse the shared folder, and, if they have an administrator password, use ClickMail Web Administration. This option is simple and easy to use.
Use File Sharing to control user access. Only folders that have their Sharing set in the Finder can be accessed by web browsers. You can require a password through the Users & Groups control panel (also used for regular Mac OS AppleShare file sharing).
If you use an alias to the ClickMail application, you must set sharing for the folder that contains ClickMail, not just the alias.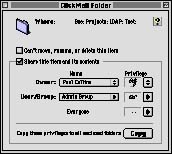 For details on setting up Personal Web sharing, see the document "Using Personal Web Sharing.html" in your Web Pages folder.
Personal Web Sharing 1.1 shipped with Mac OS 8.0/8.1. PWS 1.5, with enhancements including alias support, is available from http://www.info.apple.com/support/downloads.html