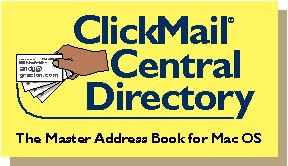 Administrator Guide for version 1.2a3
by Paul A. Collins
©1998–2002 Gracion Software
1257 Tolman Creek Road , Ashland, OR 97520-3652
online support: http://www.gracion.com/server/support/
---
Thank you for choosing ClickMail!

ClickMail Central Directory is your in-house email and contact yellow pages server. It runs standalone or along with AppleShare IP or any mail server. ClickMail provides the missing link: a master directory of your users' email addresses, accessible in virtually any email client on any platform, PC or Mac—and now in OS X 10.2 ("Jaguar")'s Address Book. Your users (and optionally the public), can look up email or postal addresses, phone and fax numbers, any kind of information you want to keep about people, devices, and services. Thanks to the Internet standard LDAP* protocol, the major email clients on Mac and Windows are already able to access ClickMail's directory.

Although email clients do not have the ability to upload entries, you can add/edit entries right in ClickMail on the server or via Remote Web Administration. ClickMail runs on Mac OS 7.5.3 through 9.2.2 (not recommended for OS X Classic mode).

*LDAP: Lightweight Directory Access Protocol ( RFC 2251)


Trademarks
ClickMail® is a registered trademark of Gracion Software. Apple, the Apple logo, AppleShare, Macintosh, the Mac OS logo, and Power Macintosh are trademarks of Apple Computer, Inc., registered in the U.S.A. and other countries. All other brands or product names shown are trademarks or registered trademarks of their respective holders.