ClickMail
Central Directory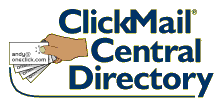 About ClickMail Central Directory
-
A guided tour of ClickMail and how it works.
Download
ClickMail Central Directory 30-day evaluation.
Order ClickMail today!
Update from any previous version (free).
New Admin Guide Online

Support for ClickMail Central Directory

3rd party links and software for downloading - from client developers, Apple, etc. Also LDAP books.
The Promise of LDAP - our Macworld Expo conference session.
News - News and updates regarding ClickMail Central Directory
Learn how ClickMail works with Sherlock 2 and the Network Browser
Gracion Software has chosen to continue limited support for this product—no OS X or other upgrades are planned. With limited email support, it is now available for only $49.
ClickMail Central Directory is an easy-to-use LDAP directory server. It sets up a central email address book that a group of users can access from within their own email programs. ClickMail, a multi-user server program that runs on Mac OS 8 or OS 9, supports clients on multiple platforms.
Compatible Clients: OS X's Address Book and Mail, plus Mac and Windows versions of Eudora, Netscape Communicator, Outlook Express, Mulberry, and QuickMail Pro. Use with any email server, or integrate with AppleShare IP users and groups.
Edit entries on the server directly, or using Timbuktu, or with the Web Administration interface.
---
Download a free 30-day evaluation, then register at any time.
Current version: ClickMail 1.2a3